Building Trust One Boat at a Time
Based in Stuart, Florida, renowned for its winter sailfish bite and legendary boat building talent, Custom Marine Electronics has earned a reputation among custom sportfish builders for delivering the highest standards in the industry.
Branch operations in Manteo, North Carolina allow us to serve the famous Carolina boat builders and meet the needs of others along the mid-Atlantic seaboard.
Leading the team are Joe Dieffenbach and David Benke, sharing nearly a half century of experience in the marine electronics industry.
Building on an electronics career spanning over 30 years, Joe Dieffenbach is highly respected in the industry as a master technician, honing his skills with leading shipbuilders like Lurssen, Feadship and Perini Navi before turning his attention to the sportfish market. At Custom Marine Electronics, Joe oversees all installations. He is responsible for determining project specifications, managing installation teams and communicating with all parties to ensure a seamless installation experience.
A successful business owner for more than 25 years, David oversees operations at Custom Marine Electronics with a dedication to customer satisfaction. Once it is determined how a boat will be used and the features needed, David researches the best combination of equipment to achieve those goals, providing a detailed breakdown of components and hardware. Once approved, he personally oversees the ordering of all items and provides ongoing logistics support to assure products are delivered on time and deadlines are met.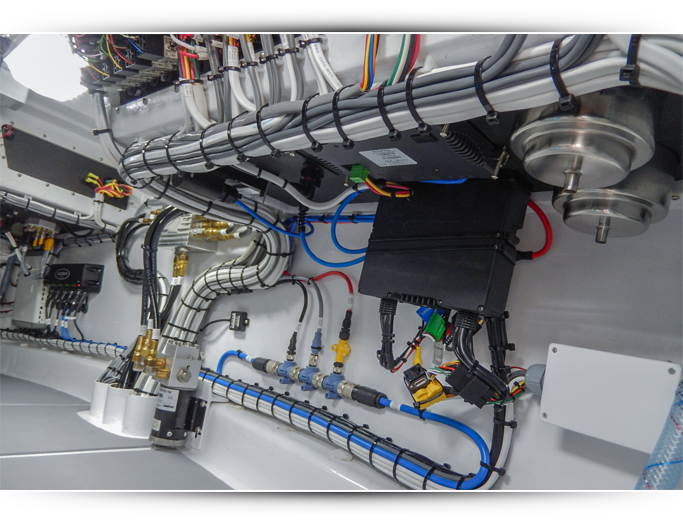 Every project begins with a pre-engineering consultation to discuss system function, integration and communication. A detailed system layout is then prepared outlining cable routing and identifying any space and access issues that could affect service or component replacement.
During the installation process, work is coordinated between all parties to coincide with construction. Upon delivery, a thorough walk-through is provided, along with detailed instructional training.
We are here for continued support and service for the life of the installation.
Proud to be Associated with the Finest Names on the Water
Let's Discuss Your Next Project
We are proud to be associated with the finest names on the water, including ACR, Aigean Networks, Airmar, Aydin, Bayliss Boatworks, Briggs Boatworks, Carlisle & Finch, F&S Boatworks, FLIR, Furuno, Fusion, Garlington Landeweer, Garmin, Icom, Integra, Jim Smith Boats, JL Audio, KVH, L&H Boats, Scarborough Boatworks, Simrad, Speakercraft, URC, and Willis Marine. 4406 SE Commerce Ave. Stuart, FL 34997 | 772-210-5832
Contact Us Today